The Addo Elephant Park is one of the most popular attractions in South Africa and home to the Big 5.
The Addo Elephant National Park was established in 1931 and is located in the Eastern Cape province, about 70 kilometers north east of Port Elizabeth. With its 1640 km² it is the biggest park in the area. This national park is home to many herds of elephants, along with many other species such as buffalo, rhino, lion, leopard, different antelope and many, many more.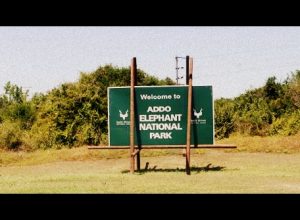 A visit to the Addo Elephant National Park provides a great chance to see the big 5 in their natural environment. In addition you can combine it with a safari in one of the other nearby private game reserves or a holiday along the Garden Route. For example you can start your Garden Route Tour in either Port Elizabeth or in Cape Town, or possibly this park is visited on one of our South African Multi Day Tours.
Addo is malaria free and does not require a booking for a day visit, unless the visitor wants to partake in optional activities. There is fuel available in the park.
What else you should bring:
binoculars
bring a camera for the best quality photos of the park
Opening hours and rates:
the main entrance is open all year round from 7 am to 7 pm
the opening hours for the game area are shorter and vary dependent on the season
the entrance fee is R130 for adults and R65 for children(subject to change)