Here is a brief background on how African Blue Tours evolved over the years from our humble beginnings at the turn of the last century to today's reputable boutique tour operator providing the best of Cape Town and Southern Africa for our clients from all corners of the world. Get to know African Blue Tours!
Want to know more about our plans for the future of the company? Well, keep on reading to find out!
David Smith, the owner of African Blue Tours, started in the tourism industry way back in 1996. He converted his family home into a 4-star guest house here in Camps Bay, Cape Town. Whilst managing the guest house, he found himself naturally assisting guests, on their sightseeing plans for the day. Whether exploring the Cape Winelands, winding their way down the Cape Peninsula or heading up the West Coast, this rapidly grew to offering more advice on areas such as the Garden Route and the rest of South Africa which he had travelled extensively in the past.
On occasion the guests would request for him to come along and show some hidden secrets and "off the beaten track" places for them to not miss out on these lesser-known (but not to a local) sights. A few years later, in 2001, David started African Blue Tours and qualified as a registered tourist guide shortly thereafter.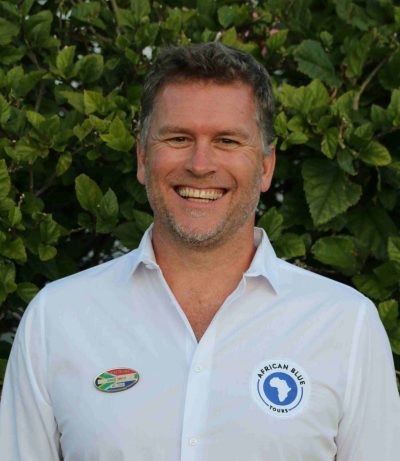 David Smith, the owner of African Blue Tours
Why "African Blue Tours" you may ask?
Whilst registering his business, David applied with three different names. The one to come back successful was African Blue Tours, which was, funnily enough, the name of his surfboard shaper's business! Dave van Ginkel, the owner of African Blue Surfboards (nowadays known as DVG shapes), wasn't too happy initially. However, with a little "any publicity is good publicity" persuasion they both agreed there would be no harm when seeing the African Blue Tours vehicle driving past various surf spots along the Cape Peninsula.
In all seriousness, the main reason why this name was chosen is that it mentions our continent and his favourite colour being the blue of the African sky, Indian & Atlantic Oceans. Blue is also a colour that brings out positivity, which we always try to impart on our client's various touring experiences.
How did the African Blue Journey start?
David started off like most young guides by providing day tours and airport transfers around Cape Town. It was not very long after that he progressed into doing multi-day tours. He first started with the Garden Route, a region where his family had vacationed each summer for 14 years straight. As his clients returned year after year, they started to request assistance in other regions. He therefore slowly expanded his offering around South Africa and then Southern Africa with Victoria Falls, Zimbabwe, Botswana and Namibia.
Having grown organically at a steady pace over the years, African Blue Tours has forged fantastic partnerships with a small group of approved trade partners that share the same values and provide the best experience in their respective areas around Southern Africa.
Due to extended year-on-year growth, the small African Blue Tours family has expanded with the addition of an experienced senior consultant in Aimee Bell. Aimee has made a welcome addition and brings along a wealth of experience having worked in Southern & East Africa. We look forward to exciting times ahead as we expand our offerings in these regions for our clients!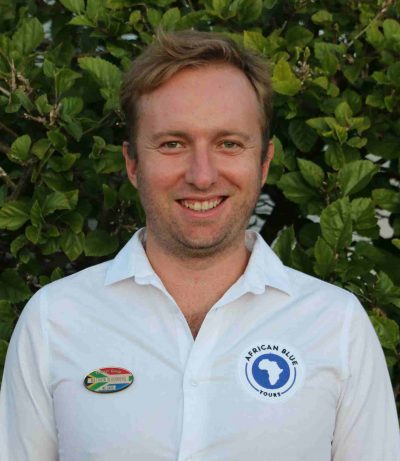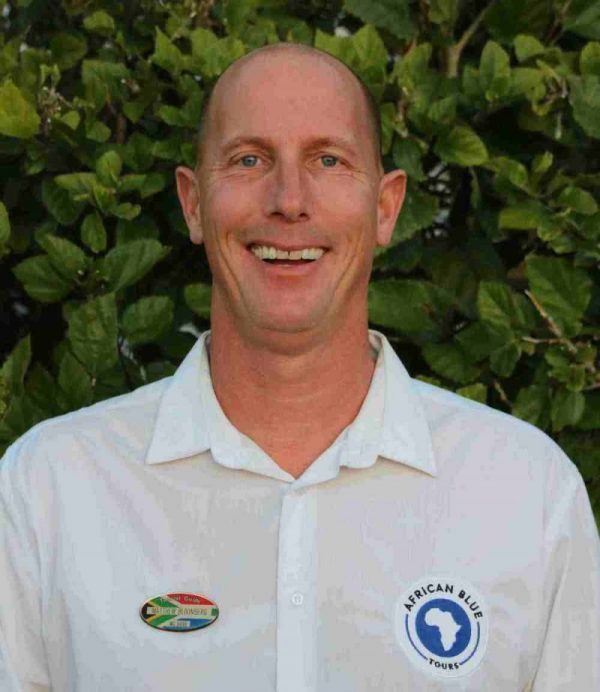 Our amazing tour guides: Duncan and Matthew!
Coming from a boutique guest house background, David has naturally adapted this same mindset for African Blue Tours. He has found its niche in private touring. He chose to remain a boutique operation, offering a high level of personalised and detail orientated service.
No pandemic will defeat us
As we navigate through this Covid-19 pandemic, we are concentrating on improving our present packages. We are also launching new products and destinations whilst upskilling ourselves in the process. Our tourist guides are attaining their qualifications in other provinces. We will, therefore, be able to offer your own personal guide for your entire African Blue journey with us soon.
Although there is much uncertainty in the global tourism industry as to when we may explore once again, here at African Blue Tours we are taking advantage of this time. We will come back stronger than ever before and can't wait to show you the beauty of our country. #staysafe and get to know African Blue Tours #soon.