Swimming with Great White Sharks could sound like a crazy idea, but surrounded by a solid cage and with an expert crew above you, its perfectly safe. What's more, you will get to experience to speed, size and grace of the oceans apex predator. There is no better way to view these misunderstood and misrepresented predators, and once your heartbeat has returned to normal, or at least close to normal, you will see what we mean.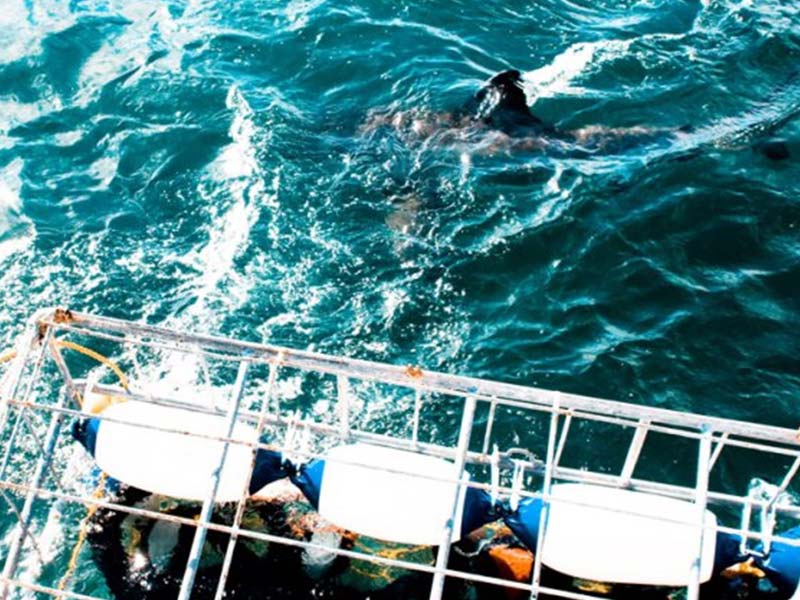 We start the White Shark Diving Tour with an early morning door-to-door collection from the Cape Town metropolitan area. Arrival 2.5 hours later at Kleinbaai, where a light breakfast, coffee/tea will be available while the safety briefing and other formalities are concluded.
We depart Kleinbaai harbour and arrive at Dyer Island only 20 minutes later and begin attracting Great Whites almost immediately with a "chum" mixture to provide an oily, yummy, fishy slick on the water which will hopefully bring them to our boat for further investigation, You will have the opportunity to photograph these awe-inspiring animals right alongside the boat and for those with the guts, its time to jump into the cage for a close up, heart stopping underwater encounter!
It is recommended that you book well in advance and allow at least 2 days diving in case of adverse weather conditions. Passengers are exposed to the open sea so purchasing of your own sea sick tablets is highly recommended, as we don't want anything else mixing with our special "chum" formula.
Complimentary snacks, drinks, wetsuits and equipment is provided on board along with a light lunch back on land while viewing the video of the day, which you can purchase if you so wish.
You will typically return to Cape Town in the mid-late afternoon.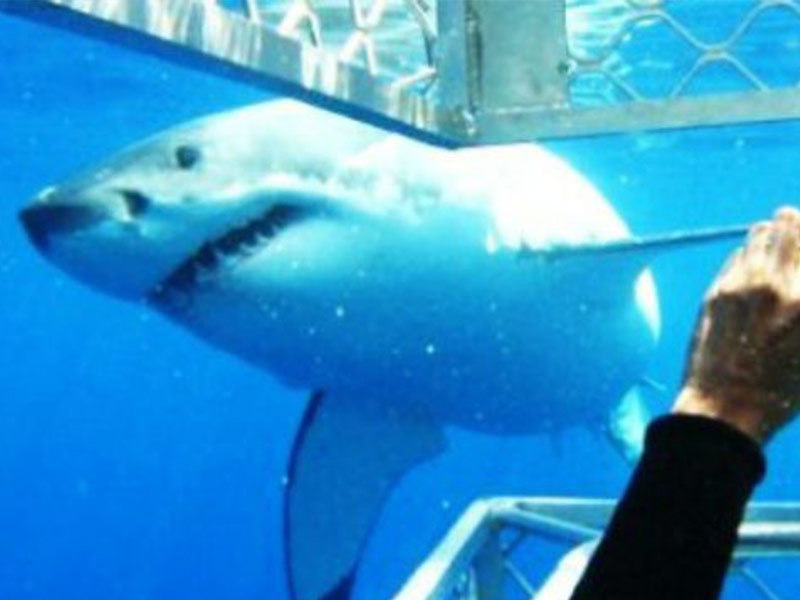 Boat trip to the Dyer Island
Photograph the Great Whites feeding at the surface, right alongside the boat.
Get in the cage and have a closer look of these awe-inspiring animals
Enjoy a light lunch while viewing the video of the day
Scenic ride back to Cape Town
Share This Story, Choose Your Platform!
Departure dates: Daily

Pick up: Depending on the tides and number of trips for each day, this can range from 03h30 to 10h30

Drop off: Depending on the tides and number of trips for each day, this can range from 14h00 to 19h00

Duration of tour: Full day tour

Pax: 2 – 25 persons maximum on the boat

Vehicle: Luxury Microbus / Luxury Mini Coach or similar

Languages available: English

2019 Rates
Rate – excluding transport: R 2 000 pp
Rate – including transport: R 2 500 pp … however subject to change due to volatile fuel costs
(valid until 31/12/2019)


2020 Rates
Rate – excluding transport: R 2 200 pp
Rate – including transport: R 2 700 pp … however subject to change due to volatile fuel costs (valid until 31/12/2020)

Should you seek a more preferable pick up and drop off time, please enquire for our private shark dive transfer rates. There is of course much more that we can then offer in addition to the cage dive experience, such as a more leisurely lunch, wine tasting in Hemel and Aarde valley, possibly spotting some more marine creatures such as the penguins at Stony Point or Southern Right whales off the cliffs of Hermanus (during months of whale watching season July to November) and the scenic Clarens Drive hugging the coastline around False Bay.
Included:  Light breakfast, light lunch, Complimentary snacks & drinks are served on board, Wetsuits are provided
Excluded: Sea sick tablets if necessary, DVD of your own experience
FOR THE NEXT BIG ADVENTURE …
We really appreciate our clients feedback on their African Blue experience as we are constantly striving to improve our service levels and selection of tour and safari experiences.
"White †Shark‡ Dive"
5 of 5 stars
Reviewed 30 September 2013
WOW! If you haven't done it – do it! My short stay in Cape Town was hampered by bad weather, which meant that most of the shark cage dives were cancelled. However David managed to find me a dive to go on with the only operator who was running the day I had free. I can't thank him enough because it was an awesome experience. Something I will never forget. The operators were excellent and made sure that I got the shark experience I was after. Thank you!
"Well-organized, very enjoyable tours"
5 of 5 stars
Reviewed 1 January 2015
Even though my African Blue tours were outsourced to Hylton Ross and another company for the shark cage tour, everything went off without a hitch and I had a great time. For African Blue tours part, I must say that David Smith did an excellent job of communicating to me clearly all the details that I needed to know prior to departure, and he was very quick to respond to all my questions via email and texting; his competence, as well as his professional and friendly demeanor were greatly appreciated…especially since I was a bit stressed out due to my procrastinating till the last minute to make tour arrangements for Capetown…totally my fault but he worked with it (which may explain why the tours were outsourced)! Anyhow, kudos to African Blue and David Smith…hope I am lucky enough to return to South Africa someday to try some more of the tours- they all look so fantastic! :)
"Great Cape Town vacation thanks to David!"
5 of 5 starsReviewed 15 January 2014
We had a wonderful experience in Cape Town with David as our guide. We went shark diving and wine tasting, the wine tasting being the most perfect afternoon I could have imagined. He knew exactly the experience we were looking for. David also helped us plan our safari at Kruger National Park. I would recommend his services to anyone!
"David, tour guide above all !!"
5 of 5 starsReviewed 16 October 2013
David took a group of 8 of us on a shark dive and Cape peninsula tour in mid-september that was destined to be doomed from the get go. Weather indicated there would be rough tides and everything looked like all things wouldnt happen. David did such a good job with arranging all activities associated with the tour. He was very engaged (even before we reached to SA) and kept us abreast to all matters that had to do with the dive. Even after our orginal tour was cancelled he made a special effort to arrange another tour for us. Trust me when i say, you will be well taken care of. He is very knowledgable of the area and the history and you will not be short changed. Highly recommended!!
"Sharks, peguins, cape of good hope and more"
5 of 5 starsReviewed 6 October 2013
David was really great, when we were in cape town the weather was not good. The day before our tour with David we could not do what we had planned so David agreed to just add it to our tour with him. He was organized and kept our disorderly group in line and on time for our various activities. The day we spent on tour with African blue was the best day I had in cape town.
At the end of it all I left something valuable in the tour bus and David ensured its safe return the next day. I could go on and on about the tour ……you just have to do it! I highly recommend African Blue tours!!!!!!!
"Sharks whales and Cape peninsula"
5 of 5 starsReviewed 2 October 2013
We travelled to Cape Town as my husband wanted to see Great White sharks. David arranged a Shark Dive Tour combined with a private tour to Hermanus to view the magnificent sight of Whales gracefully swimming by from the cliff tops. This was a fabulous day and the memories will stay with us for ever. We also did a private Cape Peninsula tour with David which again was a wonderful experience as David is a very pleasant knowledgeable person who gets great pleasure out of showing you his lovely country. This tour has everything, penguins, seals, cape point and spectacular scenery. Lunch at the Two Oceans restaurant was made even more special as Whales were passing by. Will be returning to South Africa .I read lots of reviews as they really do help but very rarely write them. Thank you David
Check out some of our other Tours