If you know how to surf but don't know where to go, leave the search to our expert surf guide who is dialled into the local conditions. Cape Town is situated on a Peninsula offering a plethora of great surfing options – if you know what tides, swell and winds light up a spot.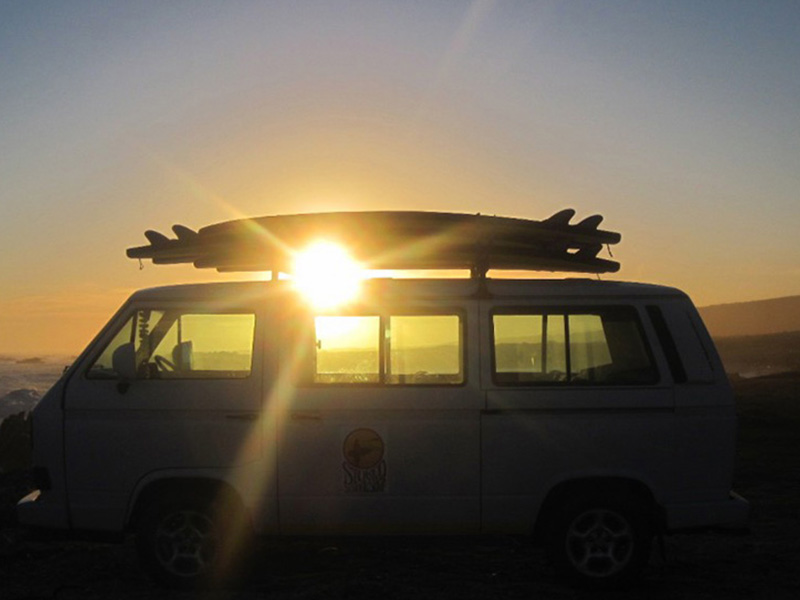 Two-hours of surf coaching at one of Cape Town's most suitable surfing beaches. These private surf lessons can be tailored for beginner surfers who prefer learning outside of a general group environment or intermediate surfers wanting to improve specific skills. This option ensures exclusivity for the individual or group with a coach especially assigned to cater for your individual needs. Listed pricing is for a private lesson for up to 2 persons. Extra participants will be charged additionally. For groups of 6 of more, regular group rates apply. Package deal available for 4 x 2 hour lessons.
Pricing:
 Starting from R 1350 pp (transport included), R1150 (self-drive), additional persons joining R580 (transport included) and R380 (self-drive).
Learn to surf at one of the beautiful beaches along Cape Town's picturesque coastline. A two-hour group surf lesson by qualified surf coaches includes use of a comfy, warm wetsuit, safe soft-top surfboard and guarantees 100% 'stoke'. If you are hooked after your group lesson and want to upgrade to the "Super Stoked" package, simply pay the price difference and we will count your first surf lesson as lesson 1 of 4.
Pricing: Transported option: R 580 pp / Self-drive option: R 380 pp
This package includes four two-hour surf lessons which can be taken over a period of a few days up to a month-whatever best suits your schedule. We cover everything from surf safety and ocean awareness, to paddling technique, how to stand up and surf the waves, turning and trimming green waves to wave selection and rules of the surf. 
After four surf lessons you are guaranteed to be stoked and ready to venture off into the appropriate 'beginner' surf on your own. We will advise what equipment is best for you and should you decide to purchase your own gear, we will even arrange discounted prices on equipment. 
If you would prefer to 'try before you buy' we do offer the option to book for an 'Experience the Stoke' lesson and upgrade to the 'Super Stoked' package should you be hooked after your first lesson. Simply pay the price difference and we will count your first lesson as 1 of 4. For online bookings, please let us know the day you'd like to do your first lesson and then email us the desired dates for lesson 2, 3 and 4.
Pricing: Transported option: R 2100 pp / Self-drive option: R 1350 pp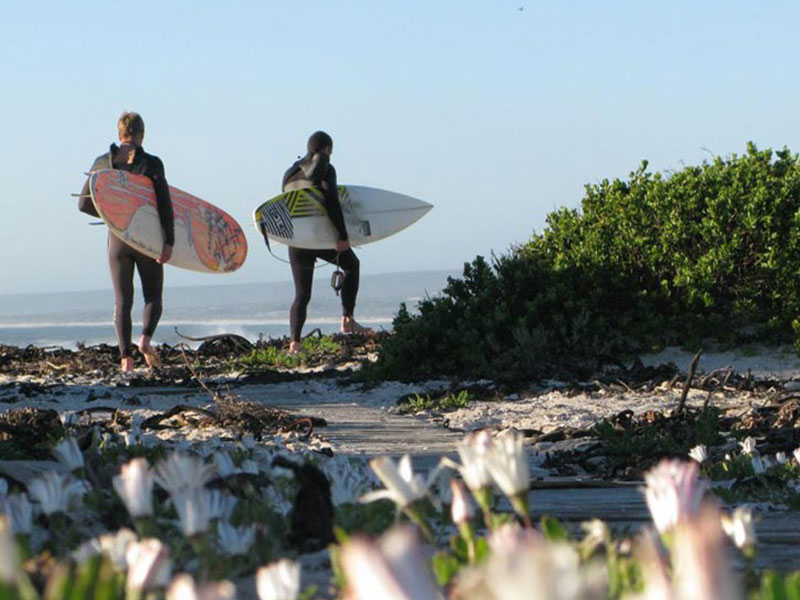 Our guide will ensure you are surfing the best waves on the day that are best suited to your ability. This option is for intermediate to advanced surfers ONLY.
This option ensures exclusivity for the individual with an experienced surf guide especially assigned to cater for your individual needs. Listed pricing is for a private guiding for up to 2 persons.
Pricing:
  Starting from R 1600 for a half day (including board, wetsuit and transport)
3-day Stoked on the Southern Cape

2 & 7 day Uber-Flex Surf & Stay Camp

2 & 5 day Stoked & Ripping Surf Camp
For the next big adventure.
We really appreciate our clients feedback on their African Blue experience as we are constantly striving to improve our service levels and selection of tour and safari experiences.
"it's simple, book with David!"
5 of 5 stars
Reviewed 8 April 2014
recently back from a trip to SA. David was fantastic. Our large 12 person group ranged from 75 to 5 years old, and David was comfortable, accommodating and at ease with all. He knows what you should see but is always happy top cater to you needs. Having grown up in Cape Town he knows all the history personally, and I always felt he was excited to share that knowledge with us, as opposed to some guides who seem to just read off a script. It all seemed to move effortlessly and next thing you know we were off to the next great spot. And when his wife (who provides surfing instruction/lessons) was unavailable, he even took a group of us out and taught us himself. At the end we all felt we had met a great guide and a friend. He was fantastic and I can't recommend him enough.
I really mean it, stop searching and just book with him. You won't go wrong
"Excellent outing – highly recommended!"
5 of 5 stars
Reviewed 23 April 2014
On a recent trip to South Africa we had the good fortune of booking a day trip with David. He was polite, knowledgeable and contributed a wealth of knowledge about the destinations we visited. In fact we had such a great day out with him that we booked surfing lessons with him the next day, and he managed to get the whole lot of us to stand up on the board (not an easy task).
He was excellent company – a sentiment shared by our entire group, in fact each of the children enjoyed his company so much that they all wrote in their travel diary about "how much fun they had with David" and how nice he is.
Absolutely 5+++++ stars. Wish him the very best, and if we ever have the good fortune to go back we'll hope to tour with him again! Cheers!
"Amazing!!!"
5 of 5 starsReviewed
1 May 2014
Had a fantastic trip with David touring around Cape Town! He was great- was extremely knowledgeable—as well as easy going and fun! We were a big group with little kids—and David kept it fun while keeping us on schedule—not an easy task!
He also took us surfing the next day, and again was awesome as our instructor!
Definitely the way to go if you need a tour!
If you're reading this- thx again David!
Jayne
Check out some of our other Tours